You shouldn't have to share your personal space with pests,
and you won't with our effective and safe pest control services.
It can seem surprising that you have pests in your Winston-Salem, North Carolina home until you realize that insects outnumber humans at an estimated ratio of 200 million to one.
They are definitely the firm majority on the planet, but that doesn't mean you have to share your personal space with them. While you could go to the store and spend money on toxic chemicals and sprays that are typically ineffective and not safe for your family and pets, the better solution is calling our experts here at The Dead Pest Society.
What Our Clients Are Saying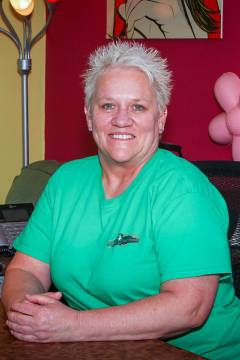 Donna Parrish
Owner
Donna opened The Dead Pest Society in 2000 after working as a pest management professional for a large company for 12 years. Having entered the industry at the young age of 19 with little more than a desire to earn a good income, she found it was something she not only loved but was good at. She finds it extremely rewarding to work with her team of pest control professionals and enjoys that they all continue to grow together as a team. She has a 14-year-old son and enjoys spending time with him, as well as her 3 sisters, 3 nephews, 1 niece, and 1 great-nephew. Favorite activities include doing anything with friends and family, especially walking, hiking, and traveling.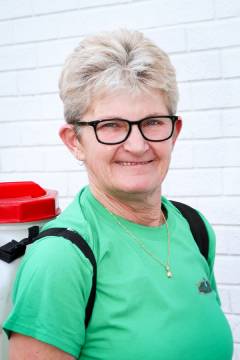 Rhonda Walters
Certified Pest Technician
Rhonda has 35 years of experience in the pest control industry and enjoys being part of a great team at The Dead Pest Society. At pest control companies she worked for previously, she received her diploma for commercial training, became service tech of the year, and became a certified pest and termite technician. She is married and has a sister and 2 brothers. Her family is rounded out with an adorable fur baby named Addy Mae. When she's not doing a wonderful job as a pest technician, she spends her time traveling, entertaining, camping, swimming, watching movies, and spending time with her family.
Tonya Walters
Office Manager
Tonya has 30 years of experience in office management, much of which was with other pest control companies in the area before being hired at The Dead Pest Society. Her favorite part of her job is working with the customers and fellow employees. She is also quite attached to a fur baby, Addy Mae, and often brings her to work with her. She is married and has one sister. She enjoys baking and even won a baking contest. In addition, she loves adventures, including traveling and camping. Spending time with family and friends and watching movies are also favorite pastimes.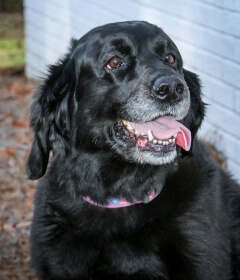 Addy Mae
Full-Time Client Greeter
Everyone takes work seriously here at The Dead Pest Society — even Addy Mae, our client greeter. Addy Mae takes her job seriously and is always a good girl when it comes to saying hello to our clients. She is so good, in fact, that we decided to have her come on full-time and make the position an official one. When she's not on the job, Addy Mae loves to go camping, but never puts up with pesky fleas or ticks. After all — how could she when considering her place of employment?! She loves her work, her family, sleepovers with favorite cousin, Lucy, and, of course, peanut butter! Come and meet Addy Mae today and see why she is ideal for her job.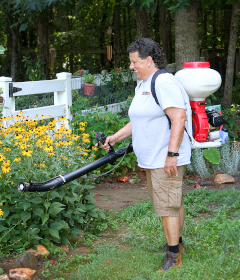 Kim Duncan
Bug Hunter
Kim Duncan is one of our excellent bug hunters, and we're happy to have her on our team. Kim worked for a few years in pest control back in the 1980s before transitioning to city government for 33 years and retiring from that. She originally joined our team as a bug hunter just to help us catch up but ended up staying on after she realized how much she loved the job.
One of the things Kim loves best about being on our team is working with customers. She loves interacting with and helping people, and she likes that her job is different every day.
Kim has two dogs and is part of a big family. She is very close to her siblings and enjoys doing odd jobs for them as well as for her friends. For example, Kim likes doing carpentry work, painting, yardwork, and fixing things for the people in her life. She also loves traveling, especially to the beach.
Contact Us
Contact us today to learn more about our pest control and wildlife management services.